Living with mobility issues when we are old is never easy, but it can be extremely difficult and upsetting for families when a child suffers some form of disability.
Learning to adapt and cope takes time and effort, but it's something that needs to be done.
To this end, if you're in such a situation and are looking for advice on how a family can help with your mobility this information may be helpful to you.
Home Improvements
Even in your own home, being disabled can result in various changes. Tasks that were once easy to accomplish can become difficult.
Moving around may be difficult for your child so you need to address walking needs. If your child has weak knees or legs, for instance, then you need the correct floor. Laminate flooring is smooth and slippery, providing a clear health risk. Carpets are soft and are much less likely to cause you to slip.
Likewise, you should also consider the stairs as well. If walking is a problem, the bending and angles required by a staircase may pose an even greater problem. Fortunately, the likes of stair lifts and home lifts provide easy solutions. Even if you are in a wheelchair, a home lift can get you between floors easily and effectively.
On a similar note, the bathroom may also need to be addressed. Getting in and out of a bath is dangerous, even when it's not wet. As such, you should look into walk-in baths and showers to help remove this potential hazard.
Walking Aids
Whether walking inside the house or outside, you might also need to think about the use of a mobility aid. These devices are designed to make walking easier, and there are various types to meet the varying needs and circumstances that your child may face, depending on their condition.
A walking stick is a common example, and this offers extra support and balance, which is useful in a large variety of circumstances. For people with more limiting conditions, the likes of wheelchairs offer an effective way to move around unassisted. Outside of the house, mobility scooters can also be useful, especially when covering longer distances.
After discussing the benefits of various home improvements and walking aids, it might be important to think about the definition of independence. Children will be children, whatever their disability, so it is important to allow them a degree of independence, especially in the home.
In summary, this is only a short look at how to cope with mobility issues and limitations, but it should hopefully show the importance of the subject. This will all vary depending on your individual needs, but the information presented here should none the less hopefully help you cope better.
Every child, when born, give them a book, Child Health Booklet, that parents have to always carry all doctor visits.
This book provides general information for all children, including immunization schedule, information on the psychomotor development of children as well as some tips for caring for the smallest and prevent accidents common in the early years of life.
In the primer will be recording the results of health examinations to which subject the child, and the observations or comments that indicate the doctor sees fit.
The book also keeps track of weight and height of the child, recording their progress in a specific graphics are different for boys and for girls.
These charts, adopted by the World Health Organization, say the so-called percentiles, which indicate the proportion of weight and height in relation to age. The curves marked graphs that WHO considers normal, ranging from 3 to 97%. Everything that comes out of this range, either above or below, could be considered "abnormal" and would have to watch it or treat it specifically.
The famous percentiles, besides serving as a reference to control the proper growth of the baby, serves, in many cases, to cause some competitivad between parents. It is very common to hear that "mine is above average, mine exceeds the 75th percentile, as mine is almost 100″.
And I think all parents sin of "mine more", a universal statement applicable to each subject. It's something that percentiles can not change. No doubt, mine is the most (for me), as yours is to you. And how much others tell us that their children are above a given percentile, yours will be more. Neither should we care because the child is in the 15th percentile or presume because it is in 75. The important thing is that they are well within normal because, as Aristotle said, in the middle is virtue.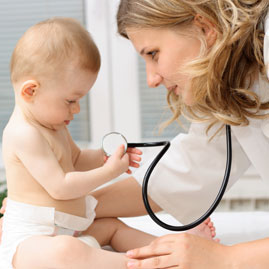 All pediatricians are governed by the same guidelines as the care and development of children is concerned. In fact, there is a Spanish Association of Pediatrics belonging to more than 9,000 pediatricians and surgeons, which sets general guidelines for all children.
However, each doctor has to criteria that may vary slightly on the opinions of others. For this reason, it may happen that, when discussing with other mothers and fathers on any specific detail related to our son, we find some differences in the guidelines taken.
For example, in the case of food. Some pediatricians suggest that you begin to introduce solid foods, of course, crushed, from the fifth month of the child. Others prefer to wait until the child reaches 6 or 7 months to start firing.
In terms of psychomotor development, most agree that it is advisable that the child begins to discover their mobility in the playground from the sixth month, when they remain seated without difficulty and can start interacting with toys. From that point, the child will begin to lie face down and develop the instinct to crawl to get some object that is not within reach. Little by little, will investigate their own mobility and begin to abide in the walls to try to stand. An exercise that can begin to develop from eight months to one year. In this regard, some pediatricians recommend the use of tacata to enhance baby's motor development, while others, however, prefer to avoid.
As for drugs, there are pediatricians who are more likely to prescribe acetaminophen with minimal discomfort to the baby may have, for example, after putting a vaccine or with the first signs of teething. Others, however, recommend that the drug not abuse unless we see the child very upset, trouble sleeping or loss of appetite.
In all of these issues comes into play the knowledge that parents have of our children. Of course, follow the instructions that marks the pediatrician who is a professional for that but. His advice and guidelines are general and within the general rule that marks the specialist, is the personal aspect of each child. And, of course, pediatricians can not know everything about all children. Like every pediatrillo can have its own booklet, each child can also have yours.
Can I control?
Sometimes it is downright difficult, if not impossible. Furthermore, it appears that there is a direct relationship between the reaction of tantrum by the child, or when the situation more uncomfortable for the mother. I mean, can that child from a tantrum at home and before you send it punished his room as he has passed. But if the tantrum is triggered in line at the supermarket, while the mother is keeping the purchase, the super is full and the cashier looks at the situation faced "how rude" the tantrum is highest.
What to do? Hopefully the method will work showed a TV ad, in which the mother was thrown to the ground and began to kick before he made his son. (I've tried and my son's anger was rising to believe I was making fun of him).
Tantrums can be caused by the reason most absurd and baseless. Normally, children want to get away with it on very simple because they need to build your personality. They are taking orders all day, do not do this, stand here, do not shout, eat chicken, let your brother go to bed … As they get older, they need to show their character and rebel, in a way, against all the constraints and rules that must be met. At some point, want to set your criteria, get away with it simply because to do so, take the lead, to record its decision. A pediatrician once told me, three years, children experience their early teens, his personal struggle against the world.
When they get younger siblings, older people can accentuate a more rebellious behavior by simply calling attention and protest at having given his reign. But the issue of deposed princes, deserves another post.
As for tantrums in general, parents have to be patient and understanding because, in most cases, children with behavior, want to tell us something we do not know or can not express in words.
Punishing behavior usually gives a good result. The problem is when the punishment can not be applied immediately after the tantrum occurring. Children understand the negative consequences that triggers bad behavior on their part. But, three hours later punish, punishment loses its strength and its effect on the child.
Ignoring his attitude and realize that they do not get the attention of parents, may be a sufficient rebuke to the child and understand that it succeeds.
"The child does not eat me", which phrase so typical of mothers, right? And, there are many children who have difficulty eating. Each time you sit in front of the plate of food, it becomes quite an ordeal for both the child and parents.
The first thing we do is talk with your doctor to rule out suffering from any problem that you have removed the child's appetite. Many times, the appetite is caused by some discomfort, bothersome mucus, iron deficiency, for any infection … But when we discard all possible physical disorders, we still assume that the child is wrong room.
You need to provide a balanced diet and when you begin to enter all the foods in the diet of children, the problems begin, especially those who are less famous attractions such as vegetables or legumes that are often the least pleasing to the little ones.
Is the method "if you eat now, you'll have for dinner." Leave the plate on the table and, if not eaten, I retired and we save it for later. When the child returns to order food, we turn to serve the same. When the child is hungry and see no other option, you end up eating what we prepared. It's a hard path, but it seems effective.
There is also the method "eating game" that some pediatricians do not recommend because they claim that children who eat while distracted, have many more options to be obese as adults, because their brain is not aware that he is filling his belly and lose satiety, so that seniors may eat more without feeling never full.
But maybe, just with a little patience and imagination, we can make mealtimes a fun time for children. Who has not ever tried the usual "airplane"? With a bit of distraction, we can entertain the moments before the plate and the lunch, not a punishment, a subject of discussion and anger, even hate that time of day.
A major change in their lives as the arrival of a sibling or starting school, children can lose their appetite or want to attract attention and have their parents pending. The game at mealtimes may be encouraging for the item to become a fun time of day.
The research, conducted by the Girl Scouts of the USA as part of its "JuntosPorElla" was based on a telephone survey of 1,000 girls between 8 and 17 years of age. It showed that about 3 of every 5 girls believe that a woman can rise within a company, but rarely get to direct it. Also, more than a third did not feel comfortable when they try to be leaders, while about 40% have not convinced you need to have a position of power.
"It is very clear that our girls have a vision of their potential as leaders that is inconsistent with what we know we can get to achieve," said Anna Maria Chavez, CEO of Girl Scouts of the USA. "The campaign" JuntosPorElla "is the beginning of a movement that impacts our children today to inspire them to leadership positions in all areas of our society."
Barriers to leadership from the point of view of a girl
It is possible that one of the crucial reasons that girls have a distorted view of leadership is related to what they perceive as environments that do not support women leaders. Findings revealed that 81% of girls believe that the workplace can play a better role to meet the needs of workers, and most felt that family responsibilities fall more heavily on women than men, while the Women try to ascend in their careers.
"Our study" JuntosPorElla "found that while most girls are sure to want to be leaders, a shocking 59% of them indicated that it is easier to be a follower be a leader," says Connie Lindsey, national president of Girl Scouts of the USA. "And, as shown by own investigations of Girl Scout Research Institute, the negative influences such as stress, fear of speaking before others, be perceived as 'bossy' and peer pressure (as) that girls can do just let go of assuming leadership roles. We must change this and "JuntosPorElla" is a step in the right direction. "
The philanthropic campaign billion dollars in favor of girls, look propel this effort and funding opportunities that encourage leadership from them. 90% of proceeds will go directly to services and programs for girls across the nation and 94 countries around the world to help solve the critical shortage of talent in the fields of finance, science, technology, environment and global leadership.
For more information or to support the initiative can visit the website of the organization.
When a child wets the bed is uncomfortable, especially children who are older. Furthermore, due to fear of wetting the bed, these children often avoid going to bed at their friends' houses, camps, etc.., So that this can cause them problems of isolation.
Three out of four children stay dry all night by three and half years old. At 5 years, one in five still wets the bed at the age of 6, the figures drop to one in ten. Enuresis is considered to exist when children wet the bed at age 5 years or more, which is the age at which it believes should have acquired the developmental skills needed to avoid over wetting.
Boys are more likely to have enuresis than girls. Without treatment, enuresis can take up to puberty or adolescence, whereas the right treatment can solve the problem successfully.
The causes can be diverse. Among them, may encounter the following:
A. – Psychological causes: such as the birth of a new sibling, divorce of parents, a death in the family, some kind of abuse, etc …. When the cause is psychological, usually secondary enuresis, ie that appears after the boy had managed to stay dry. In contrast, primary enuresis the child has never been dry. Is most likely due to medical reasons or a slower ripening or reduced bladder capacity. Primary enuresis is more common, occurring in 90% of cases.
2. – Slower development of the nerves controlling the bladder and a bladder with reduced capacity, unable to hold urine produced at night, can lead to bedwetting.
3. – The enuresis may also be a symptom of a serious illness such as diabetes or a urinary tract infection.
4. – Trouble waking up due to a very deep sleep.
In all these cases it is necessary to consult with the pediatrician, to refer the child to the appropriate specialist according to the type of enuresis. If symptoms are accompanied by fever or abdominal pain, you should take your child to the emergency physician.
Lice are one of the problems of concern to parents and teachers in schools.
In many of them during the school year is attached a circular which reports on the prevention and directions for action, if it detects that a child has lice.
The spread of lice is very fast and simple, because it transmitted only by contact, either combs or brushes, towels or direct contact between the heads.
Lice are insects that survive in different environments and feed on human blood. Produce irritating saliva that is injected into the scalp for food, resulting in the annoying itching.
Although the occurrence of an outbreak of head lice in schools, it automatically creates a great social alarm, remember that head lice do not transmit disease.
To prevent the occurrence of lice, wash your hair frequently, combing and brushing every day, preventing annoying tangles and knots from forming, routinely check the heads of children, especially in the neck and behind the ears, and avoid sharing personal hygiene items such as combs, rubber bands, barrettes, hats, brushes …
If the occurrence of lice, is when you should start the necessary treatment and use of specific lotions and shampoos to alleviate the infestation. It is not advisable to use pest control products proactively, since improper application can result in a resistance that would be unproductive in case of infection.
We must continue the treatment record, according to the instructions in the antiparasitic lotions, based on pyrethrins, which are purchased in pharmacies.
It is a long treatment, which should be repeated for several days to kill lice and prevent eggs continue to create. To remove the nits stick to the hair, we recommend the use of combs with closely spaced barbs that can pull the nits to the hair end.
Similarly, it is necessary to deworm the brushes, combs and other hygiene items used to prevent a new outbreak of contact.
On the other hand, you also have to watch the hair of people who have been in contact with the person who has lice, and follow the same prevention measures and treatment.
You have to take extra hygiene precautions to prevent and stop a plague of lice, but do not forget that not a disease.
It is very common to associate the presence of lice with a lack of hygiene and a particular low social status, but not real. Lice do not understand status and can occur accidentally without it being a source of shame or social discrimination. They should be treated naturally, effectively and consistently to eradicate this pest, particularly annoying, which is spread so easily.
Measure your temperature to our children seems so simple, but if you use the appropriate thermometer may get an inaccurate result.
bebesPor fever example, within 3 months is better to use digital thermometers and place them in the baby's bottom. The electronics are used to calculate the tympanic temperature, but at this age are not recommended because even their ear canals are very small.
After this time and up to 4 years, you have the option to continue with digital thermometers because they are more reliable and also for its variety in costs. It is recommended to measure rectal and avoid it in the armpit, the result is change. Also, the electronic ear are applied in the alternative for the child.
If your child is older, then you can measure your temperature by placing a digital thermometer in your mouth (under the tongue). But if one has a bad cold and cough, we recommend placing it in the armpit or find an electronic thermometer ear.
Other instruments used to measure temperature are the plastic strip thermometers or thermometer to suck. They tell us if the child is feverish, but not exactly.
How to face the arrival of a new child home is an important issue because if a child is already in the house.
Change is important for the child who receives a brother and that if it is in low age is more difficult as the claim that child care is the same as the newborn baby.
The steps will partly natural and partly from experiences of others is always good to hear.
While parents for the arrival of a new child is another experience of happiness that can be a bit stressful, especially for the mother must breastfeed and feel more closely the claim of another child, but there are ways to bring this change as normal as possible, in terms of dealing with the child who is at home must be the same and to point out that it is also important, if we participate in moments such as when you change the diaper there are moments that are good for sharing with family, to integrate the new member in routine activities because that way it took the arrival of part of another child in a less traumatic.
Do not forget that the larger the family is the best thing that can happen and that over time the brothers are the best companions you can have in life.